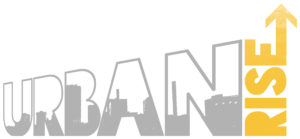 Urban Rise is in launch phase. It is currently being constructed through partnerships with urban churches, organizations, and community leaders. Rocket Rise also partners to bring UT athletes and coaches into the urban communities of Toledo to provide mentoring and encouragement.
The goal of Urban Rise is to help multiply the efforts of urban churches and organizations to share the life changing message of Jesus through strategic actions that create spiritual connection with God, educational achievement, family stability, economic development, and social empowerment.
Urban Rise seeks to bring groups together in each community to collectively impact their neighborhoods. It also endeavors to provide local communities with tools and training to build infrastructure and systems, to connect with successful programs in similar communities, to encourage and empower leaders and their organizations, and to facilitate engagement with relevant resources.